To write your blog posts every day is the ultimate blog challenge.  Not every day does the writer feel inspired, or compelled to put pen to paper; fingers to keyboard.
There are other days when a flood of ideas tumbles out of your brain so quickly, it's hard to keep up with the flow.
Joining the Ultimate Blog Challenge
By joining the April 2017 Ultimate Blog Challenge,  I thought to challenge myself to writing at least 30 blogs posts for the month.  Sometimes, the synopsis of a new personalised story and how it came about. At other times, a blog post on something outside the usual business, which needs to be told. The key is to keep writing. Just keep writing – every day.
Blogging is not really what we do
It's not the first time I have joined the UBC (Ultimate Blog Challenge) on Facebook and I realise now that blogging is only part of my writing commitment. At Stories My Nana Tells, I write stories for a multitude of different children.  I am actually writing almost every day. Creating new story lines, customising and refining ideas that come from a dozen different places.
Personalising a story for an individual child gives it a new lease of life.
Editing a story to include the specific input from the parent or grandparent who commissioned the story for their child means the story is special for that child.
The Echidna story, originally written for Emma, is one of our most popular stories. It is regularly personalised for a new reader.
Nana's Blog and Snippets are key elements of our success
The big gold award icon on our home screen may have escaped your attention.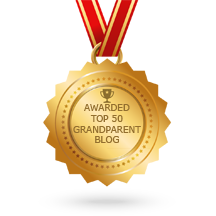 We are very proud of this recognition for our quality content on the website. An active and well supported Facebook page is a key part of our success. Click for our Facebook page
In addition, we share our blog writing through other social media platforms. This means we can build our audience in a more natural way.
For those who are bloggers only, driving readers to their blogging site is essential to achieve any worthwhile recognition of their output.
The penny took a while to drop.
This penny took a while to drop: I am not a blogger,  Blogging is a support activity for what I really love – writing stories for children.
Apart from the personalised stories, we have dozens of snippets – short form stories – on the site, as well.  The ones I love the most are what I call my "Dr Who Sonic Screwdriver" stories, where something from long out of your past comes to meet today, full circle.
We write our Snippets especially so our readers have something new to view and discuss at least once a week. Not everything has to be earth-shattering or profound. Sometimes, it's all about being human.
Keep up to date with us, as we publish regularly and don't inundate you with emails.
Stay up to date